Hugh Harmon
(Blessedhugh2)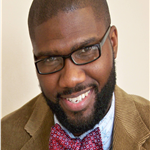 Hugh J. Harmon, M.A.T, M. Lit. Ed., serves as Founder and Senior Pastor of Love Fellowship Kingdom Restoration Tabernacle-The Kingdom Church, Columbia, SC. He is a spiritual son of Bishop Hezekiah X. Walker Jr. Love Fellowship South Carolina, as this ministry is fondly called, is a pioneering ministry with a heart for souls and a deep desire to passionately and positively impact lives for the Kingdom of God.
On any given Sunday you can attend a spirit-filled and spirit-led worship experience where Pastor Harmon with his wife, Lady Alison Harmon, and congregation praise God without restraint. At LFKRT, the Word of God is preached with power and conviction that belays the jovial and down-to-earth demeanor of this yielded servant of the Lord. The heart of Pastor Harmon is to empower the believer for Kingdom purpose, educate the unbeliever toward greater understanding of the Christian worldview and ultimately to impact the community in such a phenomenal way that people would be drawn to the person of Jesus Christ and essentially to the body of Christ. His motto is that "great opportunities to transform the world are few and far between for the ordinary man, but small opportunities to contribute to extraordinary change and impact for one or many are always before us."
In addition to Pastoring, Pastor Harmon is the author of more than 12 books. He is a publisher, awesome father, educator and motivational speaker. However, the accomplishment Pastor Harmon cherishes the most is that of being a servant of the Most High God.
Love Fellowship Kingdom Restoration Tabernacle 2015 Lorick Ave. Columbia, SC 29203 PO Box 291975 Columbia, SC 29229