Bitch- Fight.com
(bitchfight)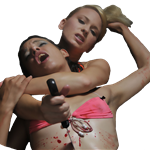 New to the party? Take our tour, you won't regret it! Look for our Tour Book - 100% FREE TO PREVIEW - in our publications below!
Visit our Apparel Store in the link >>>
Hidden deep within in the backwoods of Columbus, Ohio, we are a focused entertainment company concentrated on producing fanatical and immersive experiences we distribute on DVD, engaging fans in underground faux-pas content and to provide a rich interaction delivering horrifying imagery and performance artistry to our most loyal adult fans all while meeting their deepest and darkest desires!
We've been providing these experiences since 2014 and will continue to do so... so chillax and relax your ass! Oh... and our references to "desire" is an homage to the film franchise, Hellraiser - nothing else!
Our most popular and oldest product is Model Combat pitting models to the death for a prize.
Enjoy.
Note: The ONLY WAY to get our DVDs are FREE WITH PURCHASE only, see below for your options! You do not want to miss these!
GET FREE STUFF WHEN YOU BUY...
FREE Secret Calendar Buy both poster books *
FREE "the revelation" Book Buy 3 from any part between i - vii *
FREE l'art de la mort DVD Buy all 8 books, (poster books not included) *
FREE Vintage Magazine Buy both Model Combat magazines *
FREE Bitch Fight DVD Buy any one Model Combat magazine *
FREE Model Combat DVD Buy both Model Combat magazines and any two parts, i-iv, from l'art de la mort *
* in one calendar month, may be separate dates but within the same calendar month excluding the last day of the month! (January, February). You must contact us for details - contact@bitch-fight.com