Kelly Maddern
(badgerstateofmind)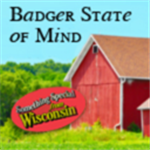 While Wisconsin's big cities and popular tourist attractions have a lot to offer its residents and tourists, this book focuses on the beauty, serenity, fun and way of life in Wisconsin's small towns and countryside. Badger State of Mind takes you off the beaten path to discover small businesses, unique destinations and the natural beauty of the state.

Badger State of Mind is the first book published by Kelly Maddern. It was her love for photography, writing, road trips and getting lost on back roads that inspired her to put this book together. Over a period of approximately three years, Kelly, her husband and their two small children traveled throughout the state and spent countless hours in the car discovering all the treasures they could find.

As you read the stories and look through the pictures, you will see that Wisconsin cannot be simply described. It is the sight of elusive wildlife, the mouth-watering smell of a Friday night fish fry, the sound of nature as you camp under the stars, the feel of the rippling river water through your feet, the taste of a grilled brat at a tailgate party... and so much more.

This is the Badger State of Mind.