Frank Moraga
(Amigos-Publications)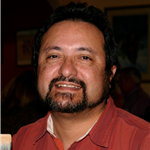 Frank X. Moraga, editor/publisher of Amigos805 in Ventura, Santa Barbara and San Luis Obispo counties, California www.Amigos805.com

Editor/publisher of AmigosNAZ in Northern Arizona. www.AmigosNAZ.com

Covering the vibrant Latino community in our regions.

Bringing Cultures Together by Sharing Information.
by Frank Moraga

Many Latino communities have in recent years begun to bring the Día de los Muertos celebrations north of the border, in an effort to educate the…

Standard

/

8.25" x 10.75"

Print + Digital:

$6.00

Digital:

Free!