Piano With Amy
(pianowithamy)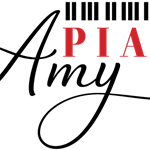 Piano With Amy specializes in online piano lessons for adults. Our studio is unique. We offer private and small group classes designed to get you playing in weeks, not years.
Learn from a Nationally Certified and experienced teacher in real time.
Choose between day or night lessons and group classes.
Learn more about us by contacting us:
Address: 7021 S Flint Hill Road Owings, MD 20736
Website:
Phone Number: (443) 342-4793
Email: amy@pianowithamy.com