Pediatric Neurology Briefs Publishers
(PediatricNeurologyBriefs)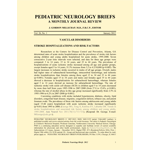 Welcome to Pediatric Neurology Briefs on HP MagCloud, the leading monthly journal review covering child neurology and related subjects since 1987.

Pediatric Neurology Briefs is designed to expedite and facilitate the review of current scientific research and advances in pediatric neurology and related subjects. The editors provide detailed summaries of published articles, followed by commentaries based on their experience and corroborated by appropriate supplementary citations.

Pediatric Neurology Briefs is intended to be accessible to readers in any medical discipline, and provides a detailed reference guide to the nervous diseases of infants, children and adolescents.

Visit PediatricNeurologyBriefs.com for more information about our peer-reviewed Open Access (OA) policy, and subscribe to our mailing list.