Hussain al Nowais
(hanowais)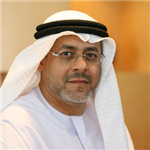 Hussain al Nowais is the Chairman of Al Nowais Investments, a successful private investment firm based in Abu Dhabi that invests in developing projects across a variety of industries. For over 25 years, Al Nowais has been involved in business and industrial endeavors, and his experience and business acumen have earned him leadership positions in a number of other public and private organizations. In addition to his leadership at Al Nowais Investments, Hussain al Nowais is the Vice Chairman of the lucrative investment group Abraaj Capital, which invests throughout the larger MENA region, and is the chairman of Waha Capital, which invests in offshore oil and gas, aviation, and other industries in the Middle East. Al Nowais also serves the public sector as the Chairman of the SENAAT, an organization commissioned by the Abu Dhabi government to oversee industrial diversification. Hussain al Nowais is also the Founder and Chairman of the Khalifa Fund, an organization dedicated to fostering innovation and entrepreneurship among young, talented Emiratis. The fund was launched in 2007 with an initial investment of 2 billion dirhams.

The Khalifa Fund has remained highly active since its inception. In fact, the fund announced in February of 2015 that it plans to fund not just Emirati entrepreneurs, but Emirati innovators with Small to Medium-Sized Enterprises. Innovation has been a key area of focus for the United Arab Emirates in 2015. Sheikh Khalifa, President of the UAE, has also outlined plans to offer incentives to innovators with SMEs, and has signed into law legislation that will make support from federal ministries mandatory.

As the first of its kind, Hussain al Nowais says that this opportunity for Emirati innovators will serve as an "incubator" program for the UAE. Al Nowais also noted that the Khalifa Fund is currently working to develop a digital platform that would allow innovators interested in applying for funding to submit their proposals electronically. Hussain al Nowais believes that focus on innovators and SMEs is essential for the continued growth of the UAE, given that though these enterprises comprise 92 percent of all companies in the UAE, they receive only 3 percent of all bank loans. With the help of the Khalifa Fund and government initiatives, it's predicted that SMEs will be able to increase their economic output contribution by 10% by the year 2020.