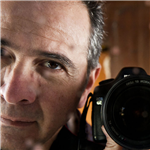 I was born in 1962 and live in Zakinthos, Greece. I studied sociology and in 1985 I enrolled in a photography course in Athens. After a 20-years hiatus and a series of unfortunate events, my interest in photography was re-invigorated in 2004. Since then I don't think I've spent a single day without thinking about photography in one way or another.

My photos have appeared in Greek and foreign magazines and various on-line venues, but I have a "regular" job and I consciously try to stay away from supporting my life through photography.

I'm wandering the streets without any preconceptions. I go out and let the rhythm of the street inform my photographs. I am fascinated with photographing people and their surroundings. From watching, comes learning and from learning, understanding. Photography helps me to relate my life to myself, to my emotions and to the world around me.