Filipa Ricardo
(tinyfeet)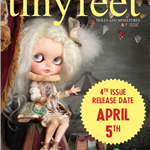 tiny feet is an on-line magazine featuring the colored and magical world of dolls and miniatures ♡

The idea is to have an on-line issue magazine dedicated to dolls and all the delightful things that surround them.

Many types of dolls, miniatures, dioramas, photography, crafts and more.

Every issue will be featuring different types of dolls and will have collaboration (photos, illustration, text) from several dolly lovers and artists showing off their dolls, photos, accessories, clothes, shoes, wigs, how-to's, and much more!