Thistle Magazine
(thistlemag)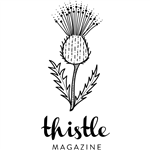 Thistle Magazine (θɪsəl mægəzin), n. An experience of the infinite variety and intimacy of life, its memories and dreams.
Thistle's MYTHOLOGY Issue features an abundance of breathtaking creative writing from both our staff and readers, as well as artwork and an interview…

Standard

/

8.25" x 10.75"

Among the pages you'll find house plant advice, musing on Angela Carter, an interview with Lara Bispinck and our spring playlist, plus lots more. Our…

Standard

/

8.25" x 10.75"
Portraits is a mini-issue by the staff of Thistle Magazine. Each story and image was created exclusively by Thistle staff members so you can get to…