Colosoul Group Inc.
(thecolosoulgroupinc)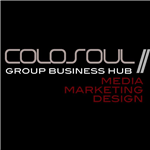 Colosoul Group Inc. is a Perth based organisation that produces 'Colosoul Magazine' , 'Wordplay', 'Vashti Magazine' and 'The Adventures of Frankie'.

Colosoul Magazine is an independent social and cultural magazine, created by and for students, young professionals.

Wordplay Magazine is an independent street press for street culture enthusiasts.

Vashti Magazine is a Perth-based magazine focusing on food, fashion and art with a conscience.

The Adventures of Frankie is a book about creating a voice for those unheard through story telling, illustrations and gift ware.