PRINCETON YOUTH ATHLETIC,BHAM
(princeton1)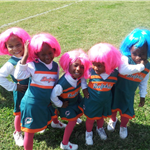 Our Purpose:

Princeton Youth Sports exists to use baseball,AN TACKLE'' FOOTBALL'' as a vehicle to drive the growth & development of all it's members from the players on the field, to the coaches in the dugout to the parents & fans in the stands. Our concerns are primal, communal & holistic. We strive to keep our purpose at the forefront of all that we do & are. It governs our thoughts & actions ...keeping us of like mind & constantly motivated. We strive for excellence in all that we do & realize that who we are is a constant representation of what we are.

We long to see the physical, mental, emotional & spiritual development of our players & each other as leaders. Our end goal isn't to produce winning ballplayers, but fully matured men that will one day stand upon our shoulders, being able to reach greater heights than even we imagined. This is only accomplished together, realizing each other's unique gifts & qualities & celebrating them rather than searching out other's like us. See More General Information Dedication

True integrity begins w/a very conscious decision to lessen the thoughts of self to adhere to the greater good & purpose of something much larger & more important than we could ever be alone. Dedication embodies this very decision & makes doing what's right often times the most difficult thing to do, but grows us in ways that are often times immeasurable. More important than any other ...skill, dedication forms a very sound base from which a healthy purpose driven self can thrive.

Truth

while the decision to be dedicated is of primal importance, what to be dedicated to is of even greater importance. Baseball is a game governed by absolutes & we believe that truth is as well. It's what leads guides & directs our every step & is at the very heart of us all. Individuality yields itself to this universal principal that we know to be, true.