Humanize Magazine
(HumanizeMag)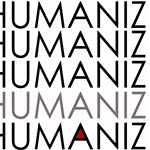 Humanize Magazine es una revista completamente bilingüe [español e inglés] que trata la cultura indie y alternativa de una manera reformadora. Es un punto de encuentro para personas que realmente quieren saber más acerca de la cultura indie y alternativa, sobre todo si buscan un toque de talento dentro de la música, el cine, la fotografía, el arte, y la literatura.

Humanize Magazine is a completely bilingual publication (Spanish and English) that deals with indie and alternative culture in an innovative manner. It is a meeting point for people who truly want to know more about indie and alternative culture, especially if they are looking for a touch of talent within music, film, photography, art and literature.

Cada tema de la revista capta una idea, una persona y/o un aspecto único – lo nunca visto o tratado anteriormente por ninguna publicación. Cada tema tiene un relato que sólo los colaboradores de Humanize Magazine pueden transmitir y sólo los lectores de Humanize Magazine pueden entender.

Each topic captures an idea, a person, and/or a unique aspect – the never-before-seen or previously covered by any publication. Each topic contains a story that only Humanize Magazine contributors can transmit and only the readers of Humanize Magazine can truly understand.

Los artículos varían. Unos contienen sólo texto. Otros contienen sólo fotografías. Y otros sólo contienen ilustraciones. Lo que tienen todos los artículos en común es que cada uno es elaborado meticulosamente para dar un resultado que cualquier lector pueda apreciar.

The articles vary. Some contain only text. Others contain only photographs. And others only contain illustrations. What they all have in common is that each one is meticulously elaborated in order to have a result that any reader can value.