Girl Fight Magazine
(girlfightmagazine)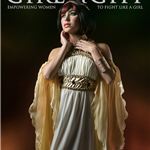 Important Announcement:

To tackle the growing list of submissions I receive regularly, thus extending my backlog, and to help make this page easier to navigate, starting with the 300th issue, I will be consolidating all the Girlfight magazines into TWO magazines: Fempower will merge with Fashion Focused to form Fashion Focused while all others will consolidate into Bad Girls Club. DEADLINES:

September 30 - Two Year Anniversary Issue!

November 30 - Videos for Extended Cut of Girl Blood Sport

September 30, 2020 - The ONLY Deadline for Magazine Submissions in 2020 due to the release of Girl Blood Sport and current backlog

Browse our variety of female empowerment issues!

Note: No issues or collections have been deleted. Just scroll down to the end of this page to view all of the issues, sorted by magazine name (i.e. Fempower, Obscura et impar, Girlfight, etc).

By submitting to Girlfight Magazine, with or without a signed release from you, you agree by the currents terms of the current release. You may read about our history by clicking here.