Girl Fight Magazine
(girlfightmagazine)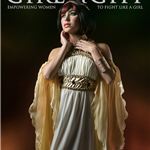 Update: July 14. 2018: Submissions to Girlfight Magazine publications are now by invite only. Updates will be made to this site and may be promoted across any and all social media.

Alternative | FemPower | GIRLFIGHT | Fashion Focused | obscura et impar | Bad Girls Club | Chin-up, It's Pinup | Realm | Fight Club | Play | Fit'N'Fem | NIGHTMARE | Sexy Sirens | Risque | VEXO

Girlfight Magazine is the response to the very aggressive female empowerment form consisting of women dominating women through using violence against women as depicted in the publisher's books and movies, simply known as Girlfight media. The magazine focuses on the "Empowerment" side, empowering women to aspire, inspire, empower/encourage, other women to overcome and achieve heir own vices through positivity based on their own experiences, whether positive or negative. The magazine is further extended to 12 different "brands" of magazines, each with their own focus on empowerment.

By submitting to Girlfight Magazine, with or without a signed release from you, you agree by the currents terms of the current release obtainable by contacting the publisher as found in the magazine.