Genevieve Hathaway
(genevievehathaway)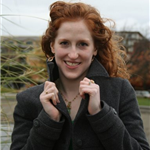 Genevieve Hathaway is an editorial and commercial travel photographer whose passions for archaeology, biology, mountaineering and capturing modern cultural heritage have taken her across the Middle East, Southern Asia and Australia. Her clients have included GAdventures, National Geographic Traveller India, The Seattle Times, Vagabundo Magazine, The Pakistan Youth Outreach, EcoTraveller Guides, The Burke Museum, GlobalWA, TWG Magazine, and the Outdoor Women's Alliance.

Her first career was as an Osteoarchaeologist, specializing in Egyptology and Human Remains in archaeological sites. In 2010, she followed her love for mountaineering and climbing, founding Alpine Athena, the first North American woman's climbing magazine. Two years later, she made the decision to become a full-time photographer.

In 2011, Genevieve launched the Gear for Gals in Pakistan project, getting leading brands from the outdoor industry to supply climbing equipment to organizations promoting gender equality. As a result of this project, Samina Baig had many of the crucial pieces of gear necessary to summit Mt. Everest, becoming the first Pakistani woman to summit the world's tallest mountain.

Genevieve also recently spent extensive time in Egypt, documenting Egypt's ongoing socio-political revolution and continued Arab Spring through the street art movement. The finished project, titled War on Walls, features the most iconic of this revolution art. Photographs from this project have appeared in National Geographic Traveller India, and have been published in Genevieve's book War On Walls. War on Walls will be exhibited in Seattle in January and February 2015.

Genevieve has spoken on the impact and evolution of Egypt's Arab Spring street art at numerous universities and conferences throughout Australia and the United States, and recently at Brown University's prestigious Social Media and Political Change in Latin America and the Middle East Conference.

Genevieve is a contributor for GAdventures, Outdoor Women's Alliance, and EcoTraveller Guides.

When not traveling, Genevieve calls Seattle, USA home.