Focus Magazine
(Focusswfl)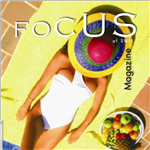 Focus Magazine is a publication that enables everyone to use all aspects of technology to engage in regional events and share information. Synced to our tagline "it's about you", Focus Magazine is a one-of-a-kind publication to really leverage its resources to showcase a wide range of our regions best resource... It's people!
About love, romance, understanding and moving forward. Getting what you need in your relationship. Including wonderful recipes and lifestyle details…

Standard

/

8.25" x 10.75"

Print + Digital:

$17.40

Digital:

Free!

Warm gentle winds and extended days, brings in the transition of a new season. It's all about gearing up in more ways than one. Highlighting…

Standard

/

8.25" x 10.75"

Print + Digital:

$12.00

Digital:

Free!