Dyme Squad Magazine
(Dymesquad)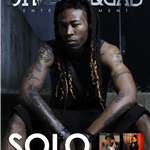 Dyme Squad Magazine, based out of Richmond, VA, was started in 2010. Since its birth, Dyme Squad Magazine has become known and anticipated all over the USA, and other countries such as England and Africa. Our website reaches as many as 300 million people world wide. The purpose of our magazine is to entertain, inform, and update our audience on what and who is hot in the major and underground industry.

To be featured, advertise, model, or looking for employment visit us at www.dymesquadmagazine.com By advertisements, sponsors and purchasing an issue of Dyme Squad Magazine, you are helping us to provide services to independent artists for free or discounted prices. Exclusive Interviews with the hottest Major and Independent artist, models, actors, comedians, influential people from the past and present and more coming soon. "Da Wine Cellar" by our new columnist Sherri Wine will blow your mind with all the hottest topics that affect us every day. Sex, relationships, friendships, and an advice section. This gives the audience the opportunity to get advice on topics that they might not be able to discuss anywhere else. "Rhythm & Beauty" Poetry- highlighting the best in poetry. Also hot new authors and books "Underground Basement", spot lighting the best unsigned artist worldwide "Dymes and Gents" featuring the hottest male and female models anywhere. "Thick and Luscious" spot lighting the sexiest plus size beauties. "Ink your whole Body" bringing you best tattoo artist locally and around the world www.DymeSquadMagazine.com is our free web site that highlights photos, Artist information, models, contests, columns, videos, and upcoming events. Visit us today

Dyme Squad Magazine Presents Divas &Gents Models Photo Mag ***Portion of the proceeds will go towards Children's Hospital and to Dyme Squad's Christmas Angels. Link – Dyme Squad's Christmas Angels- http://www.dymesquadmagazine.com/dyme-squads-christmas-angels.php Children's Hospital Website- http://www.childrenshosp-richmond.org/CMS/index.php To be featured submit your photos and information at the following link http://www.dymesquadmagazine.com/dyme-squad-divas.php Diva's & Gents is a combination of "Dymes & Gents" and "Thick and Luscious" from Dyme Squad Magazine. We feature adults age 18 & up male & female. We believe anyone can be a model; we also have a photo-shoot package that includes editing / graphics and prints available for those that don't have professional photos. We promote our models and make them aware of any opportunities. Diva's and Gent's is now in DSM Official Store on our website, here you can purchase 8x10's or Posters of your favorite model, magazines, Mixtapes and more.