Bevie Magazine
(beviemagazine)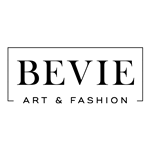 Bevie Magazine was created in November 2016 by Founder and Editor-In-Chief, Melanie Allison. The Texas model & artist established the bimonthly art & fashion publication to showcase local and emerging talent such as artists, writers, models, and photographers from Texas, across the United States, and Internationally.

By making a sophisticated publication more approachable, Melanie encourages her fellow colleagues to submit their work to be published upon review. Using creative and editorial themes, the contributor is given free interpretation for their submission.

Available in digital and print format via MagCloud.

Please follow @beviemagazine on Facebook, Instagram, and Twitter to keep up to date on magazine release information, theme concepts, contests, contributor highlights, and more!
2018 Calendar Featuring 2017 Bevie Magazine Webitorials Featured contributors/photographers on the cover and inside: An Phan, Aliona Kuznetsova,…

Standard

/

8.25" x 10.75"