B.A.D.D. Magazine
(BADDMAG)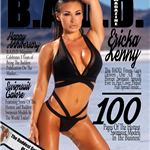 B.A.D.D. Magazine prides its self on being one of the boldest and most controversial men's magazines on the market., all while featuring some of the baddest and most gorgeous women in the world. We push the envelope with our cutting edge content, raw articles, and straight forward approach. We believe in the freedom of speech and freedom of the press and use both to the highest notch. There is no other men's magazine like ours.

B.A.D.D. (Beautiful Ambitious Distinctive Divaz) Magazine is a men's magazine with a twist. Of course we feature amazingly gorgeous women, but so does every other men's magazine. B.A.D.D. Magazine also pushes men's health facts and articles that could relate to the everyday man plus tons of controversial topics and envelope pushing content. Rather, they're facts or jokes dealing with sex, lifestyles, race issues, politics, gender issues, religion, health, entertainment, etc. B.A.D.D. Magazine covers it all. We are cutting edge to say the least.

We are dedicated to finding and featuring gorgeous women from around the world that are not only gorgeous, but also highly intelligent, smart, driven for success and/or making a difference in the community. B.A.D.D Magazine is also one of the boldest men's magazine's on the market. We pride ourselves on being BOLD, CREATIVE, ARTISTIC, CONTROVERSIAL, as well as SEXY & BADD ASS!

Grab a copy to see what we're about and also visit our site (www.baddmag.com) often. You'll never know what we're going to do next. We're unpredictable...