Art Nouveau Media Group, LLC
(ArtNouveauMagazine)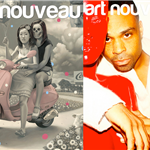 ART NOUVEAU is the only art & culture magazine with a strong focus on contemporary art & design, avant-garde fashion and an eclectic mix of music trusted as the premier destination for inspiration by some of today's most daring contemporary artist, art collectors and galleries. With an unique design aesthetic and editorial style, ART NOUVEAU has showcased and in many cases broke artists and galleries across the world since we began publishing online in 2007. ART NOUVEAU readers appreciate art, design, fashion, music, culture and all things creative. Our mission is to inspire and nurture the creative spirit one issue at a time.

ART NOUVEAU is the proven voice of the contemporary independent artist. We reach artistic trend creators, gallerists and art collectors with a point of view that can be described only as new. At the center of the ART NOUVEAU MEDIA GROUP is our mother site, an-mag.com, the online home of Art Nouveau Magazine.

All ART NOUVEAU MEDIA GROUP brands are designed to promote niche aspects in art, design, fashion and music. These brands include Art Nouveau, An-Mag.com, GreatEclectic, The-Socials.com, Corinne Stevie, Jay Scott, Ben Carson, GAS Up Radio and Fresh Printz.