Airbrush Airbrush The Magazine
(airbrushmagazine)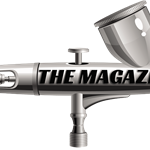 Airbrush, Kustom painting magazine published by working airbrush artist, kustom painters. Airbrush, kustom painting step by step articles, artist profiles, product reviews, contests and much more published in each issue.
by Airbrush Airbrush The Magazine

Airbrush The Magazine Issue #1 April - May 2019 Thank you to the artists that helped with this issue. Nessy's Kustoms, Jenn Mayberry, Irene…

Standard

/

8.25" x 10.75"

Print + Digital:

$10.80

Digital:

Free!