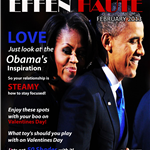 About Effen Haute Magazine

2013 BABY! Effen Haute is getting it in!

Dominating the Social Media! Exposing to the fullest Events, Talent and Business!!!

The concept behind Effen Haute is appeal, it is a bold statement for the trendsetter and the artist as well as the business owner. It is a NEW LEVEL of exposure, another avenue of advertising and promotion. Dominating the SOCIAL MEDIA Effen Haute is the effort you put into making your dreams a reality, a strong, powerful and positive movement. We help you EXPOSE your dreams to the fullest! Effen Haute is not just a statement but a positive mental attitude.

Effen Haute is for the model who owns the runway, for the artist who rocks the mic, for the club owner, the promoter and the DJ who makes the club pop. This is for all of our NATIONS up and coming businesses, talent and events. A new level of marketing advertising and promoting. Dominating the Social Media... Lets go!!!

Effen Haute's main focus is positive advertising, promoting and networking. Current trends such as social networking and word of mouth continue to gain importance in the consumers purchasing patterns, the "urban" concept is becoming a little less ethnic, and a little more of a positive mind-set every day.

Effen Haute is going to jump through the open door of opportunity and capitalize. We plan to take the lead before the newest urban mind-set of networking, social media promotions becomes something created by main stream media and watered down.

Effen Haute will make it's own footprint into mainstream media on our terms. Please believe our platform will be a common name in the very near future.... Ride this wave!! It's going to ROCK!