David Oberman
(vivofotisto)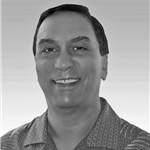 My photographs have been seen in many places including record album covers, posters, newspapers, magazines, books and in recent years, websites. Over the years I have been involved in many projects and photographed a wide variety of subjects.

"There are no rules for good photographs, there are only good photographs."

David was born, raised and educated in New York City. He began his photographic work in 1971, branching out into the digital world of computers and computer graphics. Of course, today, digital cameras and personal computers are mainstream, and he uses both on a daily basis. However, David says, "I still use monochrome film because I like the distinctive results I get."