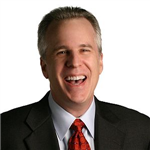 With over thirty years experience in Financial Services, and twenty in Distribution, Rob Shore's proven background in corporate America has provided him with a reputation as a leader who has been known for innovation, results, creativity, and most importantly, extraordinary sales success.

Most recently he directed, as President of Allstate Distributors, L.L.C., the activities of cross channel product distribution and marketing that:

• Produced over $30 billon in top line sales • Achieved over 30% annual compounded sales growth • Consistently increased profitability • Was known for innovation and a creative approach to the marketplace

Prior to that he helped build OppenheimerFunds early entry into bank distribution and as one of the founding wholesalers:

• raising over $1.75 billion and • maintained #1 wholesaling position for 4 consecutive years and • achieved #1 or #2 market share at every account he served Now, as CEO of shorespeak, he serves the sales and financial services communities through his coaching, training and consulting services.

In 2009 he founded Wholesaler Masterminds which coaches hundreds of wholesalers via peer coaching sessions and through live training at regional, divisional and national sales meetings.

To subscribe to I Carry The Bag visit Subscription Info at our website.