Cynthia Spencer
(reallyclear)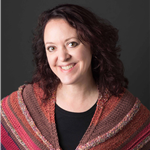 Really Clear patterns came about as a result of working with hundreds of knitters and learning what they wanted in a pattern. There is nothing Cynthia loves more than writing patterns that help people to make things with ease and joy.
This toe-up sock pattern is a perfect start for a new sock knitter. With easy-to-follow instructions, the pattern allows successful, perfectly…

Standard

/

8.25" x 10.75"
Clarisse is fast and easy. It makes the perfect gift!