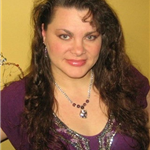 Tee Gregory "Psychic Tee" World renowned Psychic Medium, Missing Persons & Paranormal Investigator/Profiler, Clairvoyant, Remote Viewer, Ordained Minister, Mentor, Spiritual Counselor, Author, Radio/TV Host and in Magazines worldwide.

Tee is a World Renowned Psychic Medium who is highly respected in her field. Her strongest ability, "Remote Viewing", makes it possible for her to see into the past, present and future along with specific details including names and dates. She assists families and law enforcement agencies in the search for missing people and owns her own investigative agency, MP Investigations.

Tee currently has her own radio show on BlogTalkRadio and also a Television show that airs weekly. During these shows, she gives free mini readings to callers. Periodically, she'll bring in guests who she feels have something to offer her listeners. Tee has also made appearances on numerous television and radio shows and has been heard by millions throughout the world.

"She has had her abilities her entire life. However, she is not sure where they came from or why because she was adopted. This has inspired her to write her new book "We are Light!".

She has a feedback of 99.9% with testimonials from thousands.