M.L.T.S. Magazine
(mltsmag)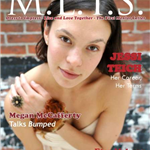 M.L.T.S. Magazine is for women who want to start their careers while in college. We're a lifestyle publication for the ambitious set. We cover fashion, beauty, entertainment, love/relationships and college/careers advice. We hope to offer some kind of support and provide knowledge that young women aren't able to find elsewhere. We consider this the think girl's magazine.

We're proud to offer a free digital version of the magazine, but have found that, at least for some, print is not dead. We believe in full disclosure so we'd like you to know that we make $3.80 on each paper copy ordered here.

We hope you enjoy our product and would love to hear your feedback! Email us at mlts.magazine@gmail.com with your thoughts on our first issue and suggestions for our second!