LeMar Joichin III
(LOVmagazine1)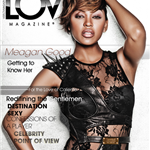 LOV Magazine a new interactive lifestyle magazine that will usher in a new cultural movement to "Bring back the Gentleman". Our publication will teach men old school principals with a new age point of view. LOV magazine looks and feels like a stylized European men's fashion magazine with beautiful women sprinkled throughout married with an urban perspective on etiquette and all the components of being a gentlemen. Our publication will define the true meaning of Swagger or better yet how to be a true "Renaissance Man".

LOV will show men how to tempt a woman's sense of taste, smell, sight, hearing and touch! We will give men the tools to be charming and intelligent while having manners, class, and thinking outside the box when it comes to romance, sex, dating and the finer things in life. Our publication will cover Men's Fashion, Celebrities Interviews, Music, Fine Dining and Cooking, Grooming, Travel/ Getaways, and Finance. We will also encompass Live Streaming Video of events, Behind the Scenes Video of the photo shoots, Video episodes about topics that are of interest to a gentlemen, blogs, downloads of music and images, ring tones and calendars.

LOV will have pictorials of some of the most beautiful women on the planet showing the sexier side of their personality. The ladies will discuss their points of view on dating, romance and the things they love about men, giving our viewers more of an in-depth look into there favorite model or actress.

Subscribers will have several ways to get LOV Magazine. Via our website, download it to your computer as a PDF file, download it to your Ipad, your Kindle or your smart phone and, of course, on the newsstand.

Online subscribers will have the privilege to use several online services giving them a more in-depth look into LOV Magazine's lifestyle and all its components. Also, as a part of your subscription, you will have the privilege of taking part in our charity, social and Red Carpet events, as well as discount promotions for products and services that will be advertised in LOV.

We at LOV Magazine are creating a new cultural movement. Bring the "old school" to the "new age." LOV Magazine is "The Ultimate Sophisticated Urban Man's Guide".

Please visit our website at www.LOVmagazine.com.