Jessica Rowell LLC
(jchansdesigns)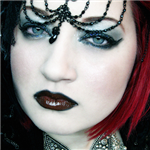 As a pre-adult Jessica M. Rowell initiated the foundation subsequent to the establishment of Jessica Rowell LLC (J-Chan's Designs) on the simple presumption of self-expression and artistic release. Unreservedly exploring a diverse range of artistic mediums, Jessica re-identified her purpose as a Costumier by realizing the needs of her evolving collective of collaborators and clientele, furthermore defining her objective via J-Chan's Designs:

"To bring your vision to life in the process of translating an idea or concept into a tangible 3-dimensional item."

Presently catering to models, photographers, performers, and entertainers, J-Chan's Designs' core services include Costume Design, Fashion Design, and Styling with an emphasized focus in theatrical costuming for stage and entertainment. In addition, J-Chan's Designs offers styling services which include Makeup Application, Body Painting, Hair Styling, Wardrobe Styling, and Creative/Art Directing for photo shoots. We strive to produce high-quality garments that showcase a superior level of creativity, use of color, and accuracy in the recreation of a specific era, theme, concept, or source. J-Chan's Designs' vision is to embrace the imaginative realm, by introducing fantastical characters, concepts, and colors that are current in the Fashion and Art Industries. We are committed to administering creativity, innovation, quality, efficiency, and integrity. Ultimately, our business goal is to continually offer our clients custom-made products and styling services at an affordable and reasonable price, while our business continues to improve and grow in refining our skills over the years to come. Aptly considered award-winning, J-Chan's Designs is a published business who has been recognized by a myriad of publications regional, national, and international.