Seeing Here Now
(ericaleone)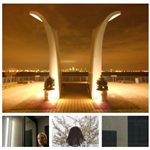 As non-partisan outreach to the veterans' community in and around New York City, which include veterans of the Gulf War and the wars in Iraq and Afghanistan, the free weekly workshops offer participants the opportunity to express themselves visually and to explore the basics of photography, video and collaborative creative exercises in a welcoming community of fellow veterans.

Workshop participants are taught advanced image-making practices using accessible photographic devices (such as cell phones or point-and-shoot cameras) or donated professional equipment. Established artists, including filmmakers, fine-art photographers and writers, visit the workshops, present their work and participate in collaborative discourse.

In addition to the work of the individual visual artists participants, collaborative exercises with the NYU Veteran Creative Writing program and Warrior Writers will take place. Participants from the visual and literary programs will partner on several "Call & Response" projects whereby photographs serve as writing prompts. In return, the resulting poetry and narrative prose pieces act as photographic prompts—thus closing the collaborative loop. The results, visually stunning and emotionally evocative works of art, will be presented in the form of a printed catalogue, online catalogue, as well as several public performances.

The workshop participants will engage with the NYC public through a final exhibition of their visual artworks, performance of their "Call & Response" collaborations and through various discursive public forums.

Seeing Here Now is made possible in part with classroom space generously donated by the International Center of Photography and with public funds from the Manhattan Community Arts Fund, supported by the New York City Department of Cultural Affairs in partnership with the City Council and administered by Lower Manhattan Cultural Council.