His Heart Scribe Publications
(CJoH)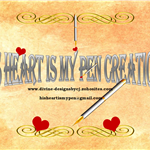 ~His Heart Scribe~ Inspirations is a bi-monthly [January, March, May, July, September, November] devotional encouragement and edification magazine.

We showcase people, writings and ministries that God is using in a very powerful way. We also serve as a publishing outlet for the unknown 'yet to be discovered' writer at heart! We strive for excellence and also quality.

We honor those that God has given the ability to truly capture "His Heart Whispers" and we embrace the divine revelations given in deep intimate time spent in prayer . We treasure each of our contributors and we celebrate their gifts to the world!

NEWS~ ON OUR May-June Mother's Day 2014 Cover

David and Eleanor Sharpe "The Essence of Sarah Beth"

What an extraordinary blessing it was to work with this beautiful couple! This month we are honored to have with us a very precious woman of God who has agreed to share with our readers a very intimate look into a very delicate area of her and her husband's life.

She speaks openly and candidly about a journey they are still on and will for "such a time as this!" As a mother and grandmother I had such a difficult time compiling this issue. However, I would never want to even imagine being chosen by God to walk in her footsteps.

Please welcome David and Eleanor Sharpe as they allow us a glimpse into their lives as parents who have endured the loss (release) of their only daughter into her heavenly Father's arms!

Our Love and Heartfelt Prayers Go Out To This Precious Couple:

Sarah Elizabeth Sharpe was born 12/27/05. In less than a week, she would've been 8 years old. She loved anything pink, Cinderella, and Jesus (with all of her heart.) Today, in the company of her loving parents, she lost her battle to leukemia and joined her Heavenly Father and was embraced by the angels in Heaven.

On December 23, 2013 around 1:15 a.m., Sarah Elizabeth Sharpe, our daughter, passed away. Sarah Elizabeth loves GOD first, then people. She has always loved butterflies, balloons, rainbows and anything that brings Joy. An avid reader and swimmer, she loved on cats, horses, dogs, and animals of all sizes especially her cat Simbie.

Wise beyond her years, she knew she was going home several months ago. In early October, she shared that she was going on a trip and the angels were coming to get her with a pastor friend. We have peace knowing she is in the arms of our precious savior. Their Intimate Portrait on page 8!