His Heart Scribe Publications
(CJoH)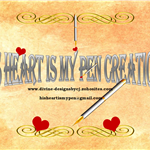 ~His Heart Scribe~ Inspirations is a bi-monthly [January, March, May, July, September, November] devotional encouragement and edification magazine.

We showcase people, writings and ministries that God is using in a very powerful way. We also serve as a publishing outlet for the unknown 'yet to be discovered' writer at heart! We strive for excellence and also quality.

We honor those that God has given the ability to truly capture "His Heart Whispers" and we embrace the divine revelations given in deep intimate time spent in prayer. We treasure each of our contributors and we celebrate their gifts to the world!