Carrie Correa
(CarrieBenz)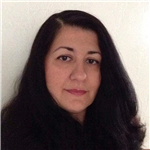 I am a professionally trained oil painter, working in pastels, acrylic, charcoal, and graphite. This has been my passion for over 30 years. I also enjoy writing and illustrating fantasy stories. For the past seven years I've had an interest in promoting events, musicians, artists, and writers. I opened Persuasion Promotions a promoting service business. In addition to oil painting, I create Hobo nickels and concept art cards for the coins. I am a member of the Original Hobo Nickel Society RM-1180, and you can find me on their showcase page.

You can see more of my work on eBay. At the moment you can find my auctions. The auction will state in the header Hobo Nickel, Pendant, Pick, Zombie Ring and/or ACEO or Concept Card. ACEO stands for Art Cards Editions and Originals. My seller ID: AfterLifeCreations

I also enjoy creating Steampunk items, coin rings, and other sculptural art forms. I'd like to add... I'm self taught in coin carving and ring making.