Alyssa and Ryan Bish
(bishfam)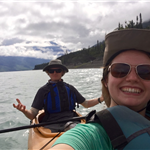 Brother and sister, we are life-long Alaskan transplants who grew up in the beautiful natural beauty of Alaska. We love adventure, close to home and far-far-away, and want to share a little of Alaska with you year-round!

Ryan brings his photography skills to the team. From sharing his love for split-boarding and quality gear at Blue & Gold Board Shop to getting special needs youth out for activities with FOCUS Inc., he keeps a busy schedule and still manages to spend a lot of time in the mountains.

Alyssa contributes her tech savvy design skills to the partnership. When not traveling around Alaska, the US, and the world, she can be found out in the community engaging Alaskans with the world at her day-job at the Alaska World Affairs Council.