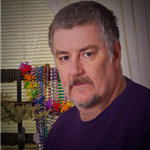 ARTIST'S STATEMENT

"My works celebrate the beauty of creation. While working towards perfection is one way to focus talent and harness energy, it must not blind us to other forms of beauty. Whether flowers, animals, or hand-made ceramics, some things are beautiful not in spite of imperfections, but because of them.

They remind us we are created perfect in our limitations, that outward beauty is transitory. Don't worship beauty- honour the creative energy that inhabits us all."
A full year of bunns; brown, black, grey and white rabbits will bring a smile to your face all year long.

This calendar features a selection of photographs taken on December 1st 2010; World Aids Day. They are some of the 60 images included in the book…

Standard

/

8.25" x 10.75"

2012 Wall Calendar featuring full-color images of Cocker Spaniel pups being fostered by Columbus Cocker Rescue until they find their 'furever home'.…

Standard

/

8.25" x 10.75"
Sell sheet for our photography and poetry books.

Print + Digital:

$0.50

Digital:

Free!